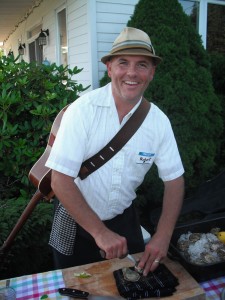 Chef Robert's Story
Robert Pendergast was cut from the Island clay in the 1970s, born into a family filled with storytelling, music, and with a healthy love of food. Growing up in Saint Louis, in Prince County, he was deep-rooted in the cultural and musical traditions of Prince Edward Island. One of six children, Robert learned early on the charms of the kitchen and the importance of breaking bread with others. His mixed Irish and Acadian heritage also meant he was exposed to a variety of cooking styles from an early age.
According to Robert, Islanders have a unique relationship with food that sets it apart.
There's a generosity at the local level. People want to share things. They don't want to just sell it to you, but they want to sit down and enjoy it with you too.
Robert spent several years studying cooking and working in kitchens in Ottawa, Montreal and Toronto, as well as several venues in Poland, France, and The Netherlands. Though he loved the experience, his love of the Island drew him back a decade ago. He has been serving up unique dining experiences ever since.