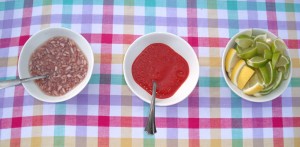 This summer, the Pendergast brothers are closing the gap between great local food and the sweet harmonies of their famous house parties by presenting The Acadian Frolic / Le frolic acadien.
Chef J. D. Runnels is creating a delectable and unique local meal inspired by classic Acadian cooking.
Look for them every Tuesday at the Gallery restaurant, Marco Polo Land in Cavendish, 6 to 8 PM.
To help them celebrate their Acadian and Irish heritage, everyone is invited to stick around after the show to join in an open music jam.
To book seats at the family table, call 963-2352 or 1-800-665-2352.
Anyone who would like more information is encouraged to e-mail robertpendergast@hotmail.com